'Fun Loving' Dating Sites*
Along with Funny Passions (the site you are on now), the sites listed below all focus on connecting singles with others who prioritize a sense of humor in dating and relationships. Site range from focusing on being fun and/or funny in dating while others are focusing on fun and/or funny chat. Each site, regardless of the company running it, shares many of the same characteristics as many of the other sites. So, if you are looking for a great dating site focused on singles with a sense of humor, then maybe one of the sites listed will be a fit for you.
AD

Fun Chat City
Chat With Fun Singles Online
Everyone is different and you will find fun/funny people on any dating site. The idea here is to promote a sense of lighthearted fun in the site for members to relax and enjoy getting to know one another. If sense of humor is important to you, it will be easy to determine while chatting with members on Fun Chat City. Join for free and have fun!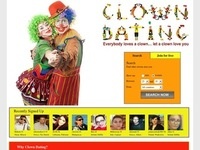 Clown Dating
Big Shoes Mean...Big Feet!
If you are turned on by balloon animals, big red shoes, red noses and squeezing into a tiny car with LOTS of other people, then Clown Dating is the site for you. Join and meet like-minded clowns for fun, laughter, and who knows, maybe even romance and love!
AD
*Sites listed on this page are a combination of ads, affiliate related Sites and general non-partnership related sites that match the theme of Funny Passions.